01.22.18
PTG 2018 Poster Art Design Call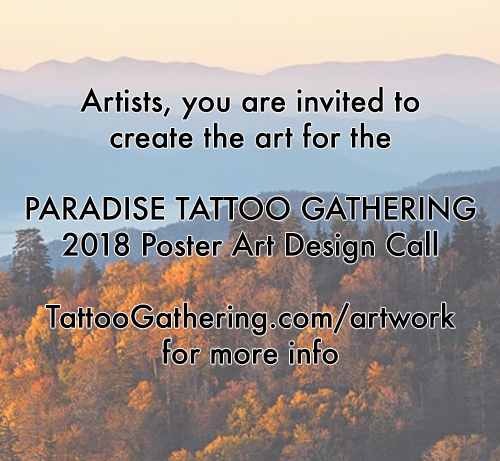 All artists are invited to submit artwork for the 10 year anniversary Paradise Tattoo Gathering.
The goal of this contest is to identify and honor an artist who understands the spirit of the Paradise Tattoo Gathering and can render an amazing image to attract like minded artists and collectors. The image will be used for all PTG merchandise including posters, postcards, banners, clothing, the website, and more. Past PTG artwork has been created by Joe Capobianco, Tom Strom, Jeff Gogue, Chet Zar, Juan Salgado, and Stefano Alcantara.
The Paradise Tattoo Gathering is an intimate tattoo convention hidden away in the hills of Western Massachusetts. It's unique location allows some of the world's most talented custom tattoo artists to ply their trade in a focused relaxed environment amongst nature and insure that the event is filled exclusively with truly motivated lovers of the tattoo culture. Education, inspiration, and sharing responsibly is the primary focus of the event and theme of the weekend. Tattoo artists and apprentices learn by getting tattooed, watching many masters at work, and by the numerous educational seminars and panels taught by experts in the field of custom tattooing throughout the Gathering. The public can learn all about the very best that tattooing has to offer as they see true masterpieces being tattooed right in front of their eyes. The Paradise Tattoo Gathering is designed for custom tattoo artists, apprentices, apprentice hopefuls, and tattoo collectors. Jiminy Peak is a unique location away from the hustle and bustle, a place filled with peace and quiet and serious focus on custom tattooing. (Oh and an alpine slide!). Thanks to everyone for 10 years of amazing support.
Artist picked receives:
$1,000 (Awarded onstage at the Gathering)
Artwork and lettering featured on PTG materials
Featured Artist space at PTG.
Interview on Off The Map LIVE!
Full page feature in PTG Event Booklet.